[ What's New ] [ Our Authors ] [ Online Catalog ]
A Foretaste of Glory Divine
Stories from a Woman Destined for Greatness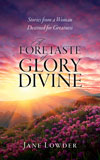 by Lowder, Jane
ISBN: 9781581581799
Price: 16.99 (288 pages)
Internet Price: 14.44
Books per carton: 50
Tradepaper 5 x 8

Jane Lowder, native of Stanly County, North Carolina, is Pastor of the Calvary Pentecostal Tabernacle in Richmond, Virginia, and Director of the Calvary Pentecostal Campground in nearby Ashland, Virginia. When Ruth Ward Heflin went to her eternal reward in September of 2001, she designated Jane as her successor. Jane has been with CPT ministries thirty-seven years in various capacities. She has also ministered in more than seventy other nations. She is a woman of vision

Books are available on Amazon.com, Barnes and Noble, Baker and Taylor and through your local bookstore.