[ What's New ] [ Our Authors ] [ Online Catalog ]
Challenges in the Joy of Motherhood
A 30 Day Devotional for Mothers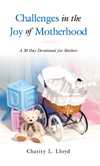 by Bagwell, Tim
ISBN: 978-158158-102-7
Price: 8.99 (80 pages)
Internet Price: 7.64
Tradepaper 5 x 8

In the world today, there is not any one thing more challenging than raising children. Using this daily devotional will enable you to pray over your children from the heart and perhaps in ways that you have never thought to pray. Each devotional will build on the other and help you develop a pattern of prayer in the lives of your children. Stand strong, be consistent, be courageous and never lose your joy.

Books are available on Amazon.com, Barnes and Noble, Baker and Taylor and through your local bookstore.