[ What's New ] [ Our Authors ] [ Online Catalog ]
David's Tent
Jesus Is Worthy of a Nation's Praise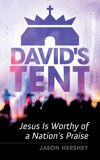 by Hershey, Jason
ISBN: 9781581581911
Price: 14.99 (256 pages)
Internet Price: 12.74
Books per carton: 99
Tradepaper 5 x 8

Did you know that the most successful governmental administration in the history of the world had, at its center, a tent where worship songs went up to God 24/7/365? It was Davids Tabernacle in Jerusalem three thousand years ago. This is the story of that tabernacle, and the testimony of how God Himself has brought back this type of public expression in the heart of Washington, D.C. David's Tent is a book filled with invitation and hope for the nation and the world to gather around the throne of Jesus and do as David did in Jerusalem. It puts forth the dream of what it might look like to have Jesus as the center of all things, from the heart of each individual to the national level. It is a call to Christians everywhere to give their lives joyfully as an offering to Jesus, simply because He's worth it!

Books are available on Amazon.com, Barnes and Noble, Baker and Taylor and through your local bookstore.